A soap opera first heard in Stoke on Trent is now available to the UK and beyond on Freeview and online.
The Colcloughs, which follows the ups and downs of a family from The Potteries, has been picked up by RNIB Connect Radio – a charity-run station for people living with sight loss.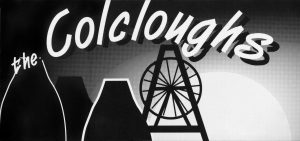 Episode 85 starring Roy Barraclough
(See Familiar Faces):
Listen to all the episodes
here
Written by a team led by Coronation Street writer Tony Perrin, the serial was originally made 25 years ago for broadcast on BBC Radio Stoke. It was expressly designed to promote healthy living after the so-called 'sick city' report revealed that the Six Towns had one of the poorest health profiles in the country. Its creator and producer, Mike Hopwood, says :
"Our mission was to make a compelling kitchen-sink drama, with warmth and wit, to develop an interest in health matters. This involved weaving 'cautionary' tales through gritty storylines designed not to hector or lecture but essentially to entertain and inform, nudging listeners to re-examine their own health and well-being. Having heard it all again recently, I am confident it remains as relevant and entertaining today as it was in 1991. It's a real shame it was only ever heard once – on one local station.
"When the drama launched, we only had the capacity to produce one midweek episode, with a repeat at weekend. But now the serial is 'on-the-shelf' it can be rerun daily, like another well-known soap, so our audience can more easily make a date with it."
One of those giving The Colcloughs her unequivocal support is Joan Walley, the MP for Stoke on Trent North from 1987 until her retirement in May last year :
"I believe the serial helped greatly improve the awareness of the importance of health and well-being across the city. It was a cutting edge radio show speaking directly to its audience.

It's good that we can celebrate the 25th Anniversary of The Colcloughs with a revival of the soap. This, coupled with other initiatives, could help us reinvigorate the debate about the importance of healthier living."
A three-way collaboration between Stoke on Trent City Council, the local health authority and an independent company this ground-breaking programme was the first BBC radio serial to be made outside the corporation. The health issues raised were further explored though phone-ins and other programmes.
But the founding of a radio repertory company, delivering more than a hundred episodes of original drama, was also seen as a cultural boost for the city. One young writer, who started with The Colcloughs, is now a senior figure in ITV soaps – and a number of actors who worked for the show went on to appear in Coronation Street and other tv series … even the company it created went on to win further BBC commissions !
Relaunch
Following successful negotiations with the actors and writers, The Colcloughs took to the airwaves again on Monday, May 16th 2016, at 6.40pm. The fifteen minute episodes were broadcast each weekday over a four month period ending in late September. Plans are now underway to secure funding for all new episodes.
RNIB Connect Radio is the new name for Insight Radio. The station can be heard on Freeview 730 and online.
For more information contact producer Mike Hopwood on 07941 365489 or email : mike@thecolcloughs.co.uk